#salimpourlove, Myalis from Belgium…
Talking about my passion with the Salimpour Legacy in a few lines … Is it really possible?
There are so many things to tell you. To explain to you. To make you discover through my words or those of other students. Dancers as much in love with this technique as me.
So, to make things easier for you, I decided to create a blog dedicated to my Adventure Salimpour.
You will find mood tickets. Serious topics, and less serious. My feelings. My happiness or my sadness.
But the first thing I want to share with you is what Suhaila and what its methodology has brought into my life.
To make it simple, she pushed me, though me, accompanied me. She brought to surface the little girl in me. As well as the woman I had taken so long to bury in the bottom of my heart, my head and my body .
I would never be the same and I am only at the beginning of the way.
Oriental dance came into my life about 15 years ago by chance because until then I had never taken a dance class.
Since my childhood, I have always wanted to dance but I have not had the chance to take classes. Dad was away for a long time, as his little kid embarrassed him. Mom worked like hell to support our needs. The ends of the month were difficults, I was always on my own but she did her best to make me happy with the little we had. So I danced in our living room on everything I could find as music. Imagining me in another life with my mom. Able to offer her what she missed. To give her a smile and especially have her by my side to spend more time together .
During all these years, this desire to dance remained in my heart. Also when I had the chance to meet a Man loving and practicing the dance, I let myself be carried away by him in classes of rock, salsa, tango, waltz … . In short, we went to everything that was available and where he agreed to go along with me. After a year, an belly dance class opened and I seized the opportunity … The years that followed, I did not cease to want to learn again and again. I took part in all possible workshops in Belgium, France, Germany and even Spain. I felt growing wings!
And then one day, I heard about Suhaila Salimpour and of course, I signed up! I love challenges. A lot of dancers were using strange words to describe her technique. "Drills, cymbals, technique, army" and so on. My curiosity was at a high level. I never do the same as the others so I wanted to know further about this strange Belly Dance approach. It was at this moment in 2011 that the adventure began and that my personal development started, when that I began to evolve … It is of this evolution of which I want to speak to you here!
Of course, I can explain you the drills, the nomenclature, the skype lessons, the various Levels, the jams, the choreographies. But what I want is to share my personal feelings, my own evolution through this huge Legacy!
So…
As a Dancer …
Before, I was eager for new choreographies without seeking to deepen a subject. My knowledge remained very superfluous and my technique … but at that time, did I have some kind of technique? I was only repeating combos or movements without knowing what my body had to do or how to avoid hurting myself.
As a dancer but was it possible to use this term to designate me? The level was not there: I was like a house built on moving sand, with no attachment point. I was like a wild horse thrown blind in a meadow after being locked up all his life.
But I knew I was not up to it, that it was just an appearance. I smiled, happy to dance but inside I was crying. I was always looking at the other dancers. I was suffering comparing myself to them, reproaching me for not being up to them.
Entering the world Salimpour helped me to build the foundations of that house. I had to start again at the beginning realizing that everything had to be done, learned again. The others around me didn't understand why I was doing that! But it did not matter: I knew it would be difficult and long but I wanted it! And indeed, the path is long and difficult. I, who doubts so much of myself, who sneed so much to be loved, who want to please, I am in perpetual combat with myself.
Among all the stuff, the most difficult for me is undoubtedly the drills. To drill for hours allows me to better control my body, to be more comfortable with it. A lot of time and energy to try to understand, to isolate, to reproduce these instructions. Without tail or head on the moment, which takes its meaning after I execute a choreography, I create a combo or I improvise!
Having level 2 in both formats – Suhaila and Jamila – I'm still a baby! For the moment, I'm working on 2 levels 3 for this summer. Why am I imposing on myself such constraints in such a short time? Because I am 40 years old and a little more than a year and a half ago, I decided to devote myself the most to the Legacy.
Every day has its share of feelings: one day I am proud of my progress, the next day I cry like a child of not being able to manage a course online.
It is hard indeed but it brings me so much and opens other horizons. This year, I felt in love with the Ballet thanks to a magical teacher, Andrea. Since then, I have spent one hour a week taking private lessons to build a strong dance base. My posture, my suppleness, my movements, my technique evolve little by little. I have wings!
I have always had a lot of trouble watching myself dancing and recently – just since a few weeks – I agree to do it, to enjoy each little battle to see what is good and what is not good … In short, I see myself Me today compared to Me yesterday. I am no longer in a fight with the others. I am competing with myself and no matter what level I can reach, it will be as many small battles won.
It is obvious: as a dancer, I have evolved and I am looking forward to discover the continuation. I can spend hours watching videos of Suhaila … but also other dancers Salimpour by telling me: WAOUUUUUH, one day I'd like to get there!
As a Professor …
Life is often strange, it sends us signs that we choose to see or not. I met Suhaila a few months after I opened my dance school. Through my work as a manager, I was used to coach, teach, accompany, give feedback etc and I was dancing for several years. The pressure at work was very strong following the financial crisis, I really needed to refocus on what I liked: developing the talents in others.
So I opened this school by creating a choreography on Shakira (ahhhhhhhh ah ah), without actually knowing what I will do next. I thought I would have about ten students in my class, I found myself with 50 girls and women eager to dance. The adventure was launched! But I needed a structure, I needed to feel myself at the level only to teach them belly dance.
After a few months, I enrolled in an workshop in Suhaila level 1. And then I knew that this approach, this structure was going to feed me, make me grow as a teacher. Being accustomed to challenges and leaders with strong personality, she hypnotised me. Because this woman whose voice pursued me during the night during those days. I was like a butterfly wanting to approach the sun. But I felt so impotent, so novice in this technique. I fought to go to the end and pass the exam. I had put a foot in the adventure and I hoped to be able to bring some positive for my students.
Years passed, students continued to flow. I kept my initial approach but gradually, I included more muscle work, endurance and suppleness feeling all the benefits in my body. Rather than simply asking them to imitate, I tried to explain to them by dissociating each step, each movement, returning regularly on more basic points to be sure. I was inspired and motivated by Suhaila, I wanted to change the thought of everybody about Belly dance.
This has borne fruit: they evolve constantly. And thanks to my personal evolution within the Salimpour methodology, now, I can share with them all that I discover: culture, sagattes, rhythms, music. I try to make my classes more and more inspired by Suhaila and Jamila.I find myself dreaming of being able one day to open a school Salimpour …. But that's another story.
So yes, the Salimpour Legacy has changed my approach as teacher!
As a member of a huge and worldwild Family… Event if your are struggling with something, you know that others has felt or are feeling the same! You can find support with them, no matter their native language or their country. You are connected!
Each time you have doubts, you want to quit (OHHHH you will want to quit!!! but after a few seconds or days you'll want to stay ah ah ah ), you will always find someone with whom you can speak about everything!
I have met so many people! Wonderful coaches as Abigail, Andry, magical dancers as Sabriye Maelle, fighting dancers through the upper Levels as Yvonne, Anna… But also Friends as Anaïs, Maria, Nawal, Nargis, Lenka and so much more! It will never be the same: I will never be alone again, and it is the same for each of us.
Each time I take a workshop, I make new connections, I discover new culture, new people, new belly dance approach!
The little Girl that was so alone will never be lost again cause of this magical Family!
As a woman …
I am a person full of doubts, fears, perfectionist (even too much), I am never happy with what I have accomplished. It always seems to me to be able to do better but I am always afraid to have reached the end of my possibilities. As a woman, I have never explored the sensual or seductive side of my personality; my body being trapped in childhood beliefs, fears and injuries.
As I wrote, until very recently: I did not accept to look at myself as it was in a photo, in video … and still less while dancing. The few times I forced myself to do it: I could not help hating what I saw, and I was left bruised for days.
Today it has changed … rest assured: I do not spend hours looking at me, no no no ! But I agree to look at what I see in the mirror or on the screen. This change is due to Suhaila Salimpour. Through the three levels 3 that I lived till now (and those I will still live), she managed to gradually open all the bolts that barricaded this little girl I wanted to protect. That I wanted to continue to be. I thought that Suhaila had surrounded me, understood at first glance: she saw through my eyes who I was or rather who I could be one day. She accompanied me without me realizing it in this opening as a Woman.
There is still a lot of work to be done, oh yes! But without her eyes, I would always be this woman who does not love or respect herself and who is never happy with her career, her successes, herself.
As a Mom …
I wrote to you: even though my mother was extraordinary because of her courage and strength, she was never at my side. The proofs of affection , the words of love were almost non-existent. I have trouble remembering memories with her. It still hurts me when I think about it.
From then on, when I had the happiness of becoming Mother, I was frightened. I did not know what example to give to this little doll that devoured me with the look. I had no landmark. Even though my husband (and yes this man who took me into the world of dance … I did not let him go 😉 ah ah ah TRAPPED !) was there to help me, I did not feel myself as a good mom. All my professional coaching techniques had no interest. I was lost!
I was also afraid of myself, afraid of this little being who expected so much from me. The only thing I was sure of, was that I did not want to reproduce the model I had known. I wanted to be there for her. To make her knowing that I love her from the depths of my heart, that I am proud of her far beyond the stars and that she is the most beautiful thing in my life.
Listening to Suhaila talk about her mother, her childhood, but also her own daughter, I realized that in life, only counts your child. He will never judge or disappoint you. The adventure is limitless: we will always be bound. Before, I was a businesswoman who spent most of her time on her computer, her phone, at work … without ever stopping a second to enjoy a simple pleasure with her child. Certainly, I made sure that she lacked nothing but I did not meet her main need: to be with her mother.
So one day I cracked, I cried, I felt guilty, I was seeing a therapist not understanding why I was not the mom I wanted to be. And I took it all back to my mind, inspiring snatches of stories from Jamila, Suhaila and Isabella. I felt the inspiration the path to be a good mum: just share my Life with her, my Love for her, be everything that she needs no matter the difficulties !
And today ? Yes I am always very professionally invested. Yes I leave 2 weeks 2 times a year in the United States to evolve in dance. Yes I always run everywhere and I still have a thousand things to do. But now I take time to enjoy moments with my 4 year old girl: to lead her to dance, go eat an ice cream, lunch together, make a puzzle, dance with her, sing with her, take her with me to classes or shows … We have even started riding a little ago ;-), one of my secret dream. In short, to see her grow and flourish.
I am a mum who works yes, but I am first a mom who is blooming and happy to be able to share her passion with this little girl who will always be my priority.
As a wife …
So, you can say that my husband won the jackpot! But maybe this is the earliest me that picked it up. If I am where I am, it is thanks to him.
I never really realized it until I took part in my first level 3. I came back transformed towards him. Indeed, we have been together for almost 12 years and without going into details, we were still not married. 2016 was the year of our both 40th birthday. On my return from the United States, something had changed. I began to accept to show my true feelings, to show myself as I am, even if I still did not know who I was exactly. I wanted to show him my commitment, I was less afraid of officially aging at his side. I did not know where his fears came from, but probably from the catastrophic marriage of my parents, the pitiful image I had of men, the perpetual fear of being abandoned … All these feelings prevented me from showing him how much I really wanted him.
Then one day, I said, "What if we got married? "And to show him my love for him and for our little Girl, I organized our Wedding on a beautiful beach in Mauritius. I tried to gather on this magnificent day all that could make us hours, we 3 and just us 3. This is actually the most beautiful day of my life and I hope for them too.
If Suhaila had not unlocked this little door during this first Level 3, I do not think we would be married today. I would not see this Man as my husband, partner, coach, a wonderful dad but I would always see him as the person with whom I share my life.
As a Business Woman …
Until 2 years ago, I held a very high position in an international bank but following the financial crisis of 2008, I was no longer really flourishing. I had the impression of gradually extinguishing myself, of not having this madness, that freedom, this creativity that I had before. I was under severe stress, I had no time to savor the smallest pleasure of everyday life.
My body started to show me alarm signals. In January 2014, I had a small heart alert, but I did not stop working. Indeed, how could I possibly have difficulty in the domain where I had always excelled?
In May 2014, I no longer heard the right ear, I had regular dizziness, but I did not stop working. Indeed, how could I stop to take care of myself? I did not have enough importance in my eyes than to waste time on that.
In September 2014, I was almost asleep, my nights were full of nightmares: I was very anxious, stressed. I had lost my "joie de vivre". Physically, I compared to a flower that is fanatical, but I didn't want to have a rest. I was strong, it was not a small "faiblesse" that could stop me.
In November 2014, I was crying each day while going to work. I was no longer able to react and reason like a sensible person, but I did not stop working. Indeed, I had a lot of work!
In November 2014, my body and my soul had enough of my nonsense and it was the black hole! A complete burn out! A burnout that I did not want to accept, I did not want to stop working or looking after me.
Indeed, what could I do outside my profession? It is then that all the learnings and the benefits of Suhaila have appeared. I decided it was time to take care of myself, realize my dreams! To take advantage of all that I had learned during my professional career, not to wait the next day to start!
I did not know exactly what I was going to do, but I knew I was going to do it and especially that I would get there. I then invested heavily in the technique Salimpour. I mutlipleted workshops, readings, courses online.
And each discovery arrived exactly at the moment when they had to arrive: it was as if all the pieces of the puzzle were put in place! Each day was full of synchonicity!
And the result will you say? I have realized several dreams of child: I have my salon of beauty, I realize articles of fashion (jewels, scarves), I do makeover, I am a make Up Artist, I have my dance school that keeps growing, little more of that dancer whom I dreamed of being when I was small. And all this, I owe it entirely to Suhaila. Without her, I don't who I would be now…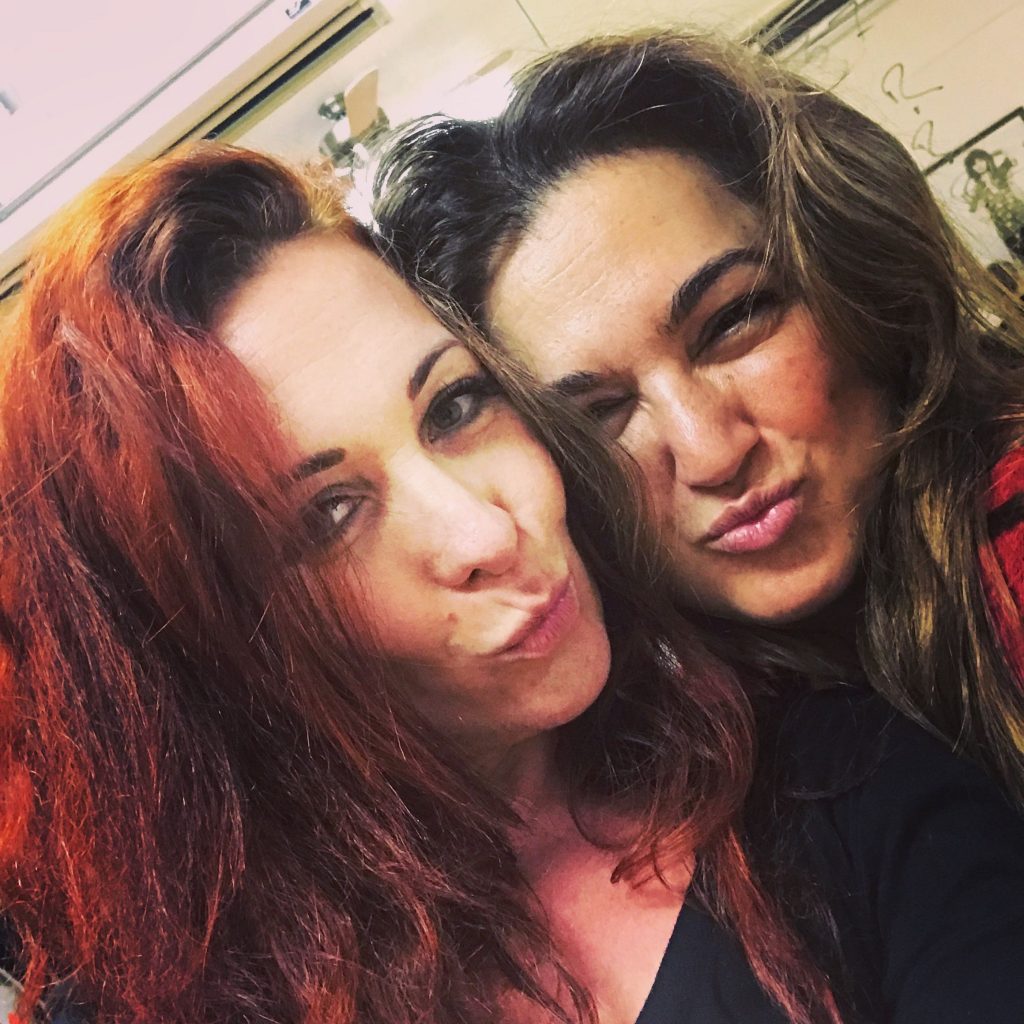 I can still write pages and pages about this story, this passion. As I said? i can tell you about drills, vibrations, on line classes, LRR LRR LR, keep breathing and so… but all of that stuff, you can find it in the website of the Salimpour School http://www.salimpourschool.com
I just preferred to tell you about what it has brought in my Life … Hoping that you too will rejoice this great family and that you can no longer do without that great Lady … Sometimes you will hate Her, sometimes you will doubt of Her, of you , sometimes you will wish to stop… But you will never again do without Her and her voice will echo in your ears! It's like a drug more intoxicated up to the least of your cells !!!
There will have sweat, tears, difficulties but there will have also laugh, courage, respect, beautiful meetings. I hope to meet you soon during an internship!
If you want to see the affects of the Salimpour Legacy on me, just watch this short video:
https://www.youtube.com/watch?v=oAJSW3worvc
ah ah ah
And if you want to know more through my experience: take a few minutes to read from time to time the other articles of this blog.
Love Live Enjoy And join Legacy Salimpour!
I would like to dedicate this article to Maelle: without her, I will never have written you these few lines. Thank you, Maelle, for having embarked in this adventure!